Date
Oct 04 2022
Expired!
Time
Pacific Time
12:00 pm
Your Time
Timezone:

America/New_York

Date:

Oct 04 2022

Time:

3:00 pm
WarFi Game & Liquidity Launch
October 2 update – launch delayed until October 4.
P2E game and liquidity launch on BSC, for an NFT gameFi and P2E game, inspired by Horde and Spring Game (WarFi is a part of their Seed Partner Program).
❌ No contract available at time of review.
DETAILS
Launch Details

Token will launch on PancakeSwap
Token pair: KILL/BUSD

Listing price: $1.1
Presale price: $1

Initial circulating market cap: unknown
Initial liquidity: unknown
Taxes: 0% buy | 10% sell (no transfer tax)
Team says dApp and game will be available at launch
Mechanics & Features

Users earn through either of the following ways;

Acquire a Soldier NFT and earn daily $KILL tokens (passive income)
play the P2E first-person shooter 'EgoVerse' game (PC download) and earn $KILL tokens for every kill you make in game

$KILL is the reward and utility token
To earn via the passive income way;

Purchase a TENT with $KILL tokens. There are 4 different TENT tiers each with varying costs and reward rates
A Soldier NFT can only be acquired ('spawned') from a TENT. There are 4 different Soldier types and the Soldier (and rank of the soldier) received depends entirely on the type of TENT you purchase
Each Soldier generates daily $KILL rewards (between 1% – 2.2% daily), and the reward rate depends on the type of tent the Soldier is spawned from and their Rank
No claim tax on rewards
Each Soldier has a lifespan ('Active Service time') of 200% ROI, after which they stop ('Retire') generating rewards
After a soldier retires, they can be used for further utility such as entry to tournaments, events
During a Soldier's active lifecycle, you will need to purchase AMMO (with $KILL tokens) to keep earning rewards. AMMO will have to be purchased at 3 different times during their lifecycle
Users can also own a WarBot NFT (Fifth Soldier) that never retires and keeps generating lifetime rewards to holders

Total of 1,000 WarBots available. Can only be purchased during the whitelist sale of the WarBot NFT (you must hold 1 of each soldier NFT to qualify for the whitelist)
Average returns will be 9-12% – automatic monthly pay-outs in BUSD
Holders also earn a share of the profits generated from the project
Funds from the WarBot sales will be invested into Trading Bots

To earn via playing the game;

Download the PC game
Pay with $KILL or BUSD to play – cost: 1 $KILL or equivalent BUSD
For each kill made in game, you will earn $KILL tokens – earn 0.5 $KILL per kill

Price Management System will be utilized to stabilize the token price around a pre-defined range; $1 – $1.1 – the system performs a buy back as the price reaches the lower range and sells as it reaches the upper range
WarFi Game Hub – road-mapped platform for partner P2E games, and with a built in DEX
Sustainability measures include; Soldier dynamic hard cap, Soldier decay model, revenue streams from; fees from EgoVerse game, trading fees from the Game Hub's DEX, and profits from trading bots
Tokenomics

Token symbol: $KILL
Total supply: 10,000,000

❌ No information on the supply distribution

10% sell tax

❌ No information on the tax distribution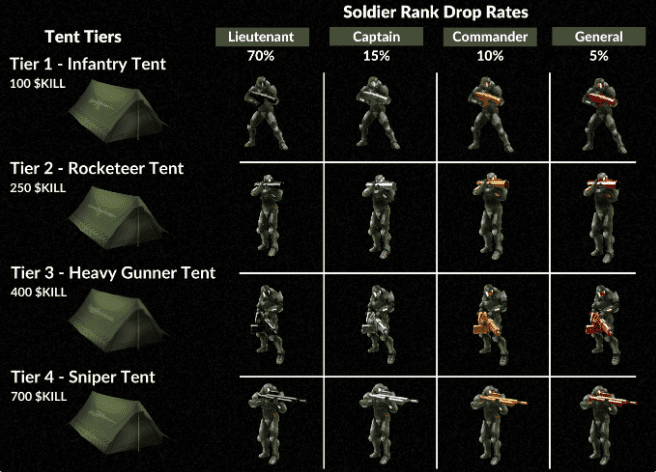 Links & Resources
Related Launches