Date
Oct 17 2022
Expired!
Your Time
Timezone:

America/New_York

Date:

Oct 17 2022

Time:

9:00 am
MetaRun Public Beta Game Launch
October 17 update – no update on a time for this, it's unclear if they are still on schedule. They are just hyping up their ongoing NFT sale, nothing about the beta game launch since October 14.
October 15 update – delayed to October 17.
October 14 update – there is still no time announced for this launch, this time is (still) a placeholder.
Open world P2E multiplayer mobile runner game on BSC.
The exact start time for this event has not been announced yet. This time is a placeholder.
DETAILS
Game Mechanics & Features

Built on Unreal Engine 5
Open beta of the game is currently available on Android (iOs version is under development and can be tested on Testflight)

Players can play the game with paid NFT or free NFT characters
Metarun has 45 unique playable 3D characters with upgradable NFT skins, which differ in prices and earning potential. Open Beta will see 3 characters made available with more to be added soon

Players race on obstacle courses filled with monsters, traps, and treasures and earn in-game currency (sapphire/gold/diamond/opal)

Each character is classified by their rarity – the higher the rarity, the more powerful the abilities (active and passive), initial characteristics (health, mana potion, damage, max speed), and higher earning potential

The skin rarity of each character determines the cosmetic and visual effects, the max level of the character, max ability level of the character, max earning bonuses
Character skins can be upgraded with in-game currencies to increase its effectiveness and value
All characters start at level 1 and level up by playing the game – character level represents the base value of health, mana, speed, damage, and abilities
Players can purchase and equip their characters with pets and artifacts to enhance their base characteristics
2 gameplay modes;

Endless run (PvE) – run as far as possible, passing the obstacles and enemies; earn by picking up in-game currency, completing missions and daily tasks, killing monsters
Battle run (PvP) – battle with an opponent while running to win and earn OPAL

Players can also play the game with free characters in PVE mode only to earn rewards
OPAL is the virtual currency, earned by participating in matches and tournaments and earning ranked awards

Token utility: exchange for $MRUN, purchase Metarun chests and premium items, upgrade characters, and staking

MRUN is the native utility token

Token utility: exchange on DEX for USDT, earning multiplier, discounts on in-game purchases, upgrade characters & skins, purchase exclusive Metarun chests, purchase battle passes and tickets for special event and tournament, character leasing, donation to creators, staking, and more

All in-game assets are NFT items that can be traded, sold, or purchased on Metarun's NFT marketplace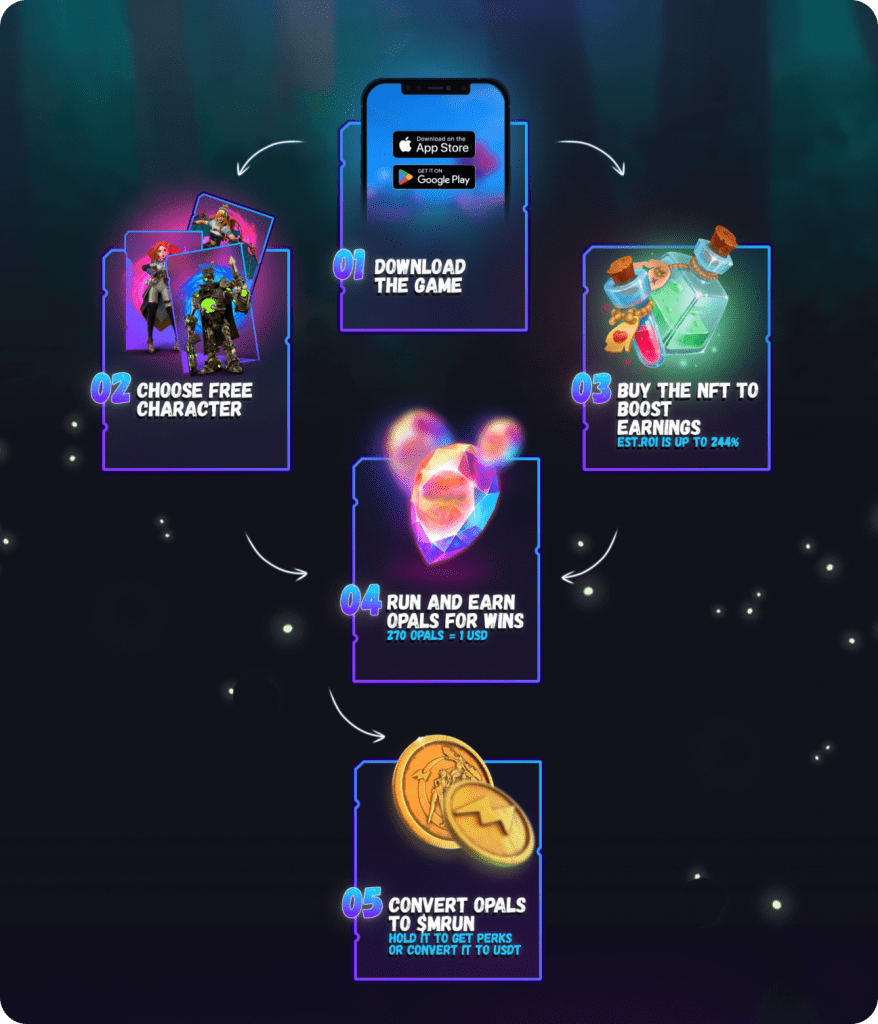 Links & Resources
Related Launches