Date
Nov 01 2022
Expired!
Time
Pacific Time
10:00 am
Your Time
Timezone:

America/New_York

Date:

Nov 01 2022

Time:

1:00 pm
Animal Farm V2 Launch
October 24 update – delayed to November 1.
October 21 update – the launch is rescheduled for October 25. A number of changes were made to the protocol that were explained over a voice chat. Please check with the team for a summary, as the docs and pinned have not been updated to reflect the changes.
October 19 update – the launch did not proceed as planned. No new date and time announced.
October 18 update – launch delayed to October 19.
A new version of Animal Farm.
This new version offers new ways to earn dividends with $DOGS and $PIGS and reduces tax based on user loyalty.
DETAILS
AFD (DOGS) is the native farm rewards token and AFP (PIGS) is the governance token
❌ DOGS contract is still pending verification also Masterchef contract has not been announced yet
PIGS holders will receive 90% of the fee
Farm fee of 4%-6%

2% – 3% for deposit
2% – 3% for withdrawal
BUSD generated from deposit fees:

25% to buy and add liquidity to DOGS

60% for PigPen dividends
10% for marketing
5% to the team

Dynamic Emissions

On high buying and staking token demands, the emission rate increase up to 100% and will stay until the price does at least a 25% correction
When demand falls a burn mechanism takes place, when it is more significant than its emission rate the algorithm dips to its lowest emission rate

Piggy Bank

Users can stake PIGS/BUSD LP to earn compound interest, up to 3.00% daily
Get extra rewards based on a time lock, bonus multiplier, and referrals

DOGS Single Asset Staking

Users can stake DOGS and get rewards and loyalty score
Token loyalty score

Associated with the number of DOGS tokens staked
Each day reduces the tax by 0.75%

Wallet Loyalty Score

Associated with the user's wallet and transaction behavior over time
Decreases your tax, on DOGS, by 2% a month

The auto-compounding Dog Pound pool increases users' loyalty score to 1% per day
Taxes

The percentage is based on the loyalty score
3% of collected taxes are burned
Transacting DOGS starts with a transaction tax of 90% but it can be reduced to as low as 6%, by 0.75% to 1% per day
Taxed transactions: Selling DOGS, transacting with another wallet, and transacting with a non-native staking contract
No taxed transactions: Buying DOGS, transacting with native DOGE contracts
Swapping DOGS for BUSD and BNB

2/3 is changed for BNB and sent to the DOGS single asset staking as rewards
1/3 is changed for BUSD and forwarded to the PIG PEN as rewards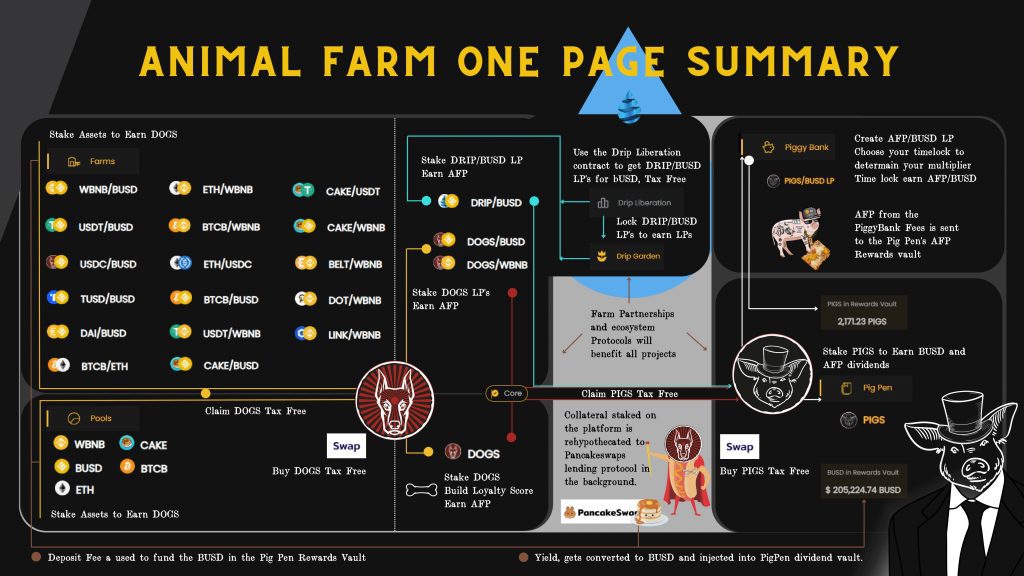 Links & Resources
Related Launches