Date
Jan 17 2023
Expired!
Your Time
Timezone:

America/New_York

Date:

Jan 17 2023

Time:

7:00 am
Naviern Liquidity Launch
January 18 update – the token didn't launch and there are no updates from the team.
January 17 update – the team has still not provided a contract address or a launch time. This time remains a placeholder.
Token launch on BSC, for a road-mapped navigation & ride-share app with elements of move-to-earn and gameFi.
The exact launch time has not been announced, only that is on January 17. This time is a placeholder.
❌ No contract available at time of review.
DETAILS
Launch Details

Token will be listed on PancakeSwap
Token pair: unknown
Listing price: $0.01
IDO price: $0.01

Initial circulating market cap: $525,000
Taxes: 0%
Mechanics & Features

Naviern is a navigation app where users earn by using the app
The app will consist of multiple travel modes – travel, walking, public transport
An NFT is required to use and earn on the app – each travel mode has its own specific NFT
The app ecosystem will feature;

navigation system
NFT marketplace where users can trade or rent out their NFTs
ability to upgrade the NFT via completing tasks
staking system allows users to stake their earned tokens for a high yield
multi-chain in-app wallet
award center to show each user their progress

Users are awarded energy points daily (which expires daily if not used) and the amount awarded is dependent on;

amount of time spent using the app
holding in-app NFT assets (users who hold multiple NFTs receive more points & applies to holding NFTs of all three ecosystems)
amount of staked tokens
level of NFTs or NFTs held in-wallet

Users $NST rewards earned is evaluated based on the following factors;

mode of travel (walking, public transport, driving, as each mode of travel has its own individual ecosystem)
time and distance the user has traveled
level of NFTs held and the degree of wear
energy level of the users in the app
number of users using the app with the reward feature enabled
Vehicle energy source (electric and hydrogen vehicle owners will earn)

$NST is the reward token

Token utility – mint and upgrade in-app NFTs, NFT repair

$NVRN is the governance token

Token utility – in-app purchases
Tokenomics

Token symbol: NVRN
Total supply: 1,000,000,000

4.62% — Seed sale (10% at TGE, then 12 months linear vesting)
13.38% — Public sale/IDO (20% at TGE, then 12 months linear vesting)
12% — Team (48 months linear vesting)
4% — Advisors (2,% at TGE, then 18 months vesting)
30% — Staking rewards (24 months linear vesting)
15% — Ecosystem & reserve (48 months linear vesting)
8% — Marketing (0.67% at TGE, then 24 months linear vesting)
6% — Liquidity (20% at TGE, then 8 months linear vesting)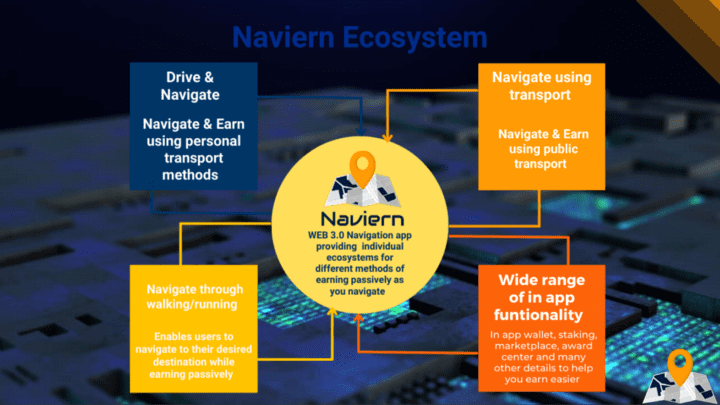 Links & Resources
Related Launches