Date
Jul 23 2022
Expired!
Time
Pacific Time
10:00 am
Your Time
Timezone:

America/New_York

Date:

Jul 23 2022

Time:

1:00 pm
Fuzz Finance Genesis Pools Launch
July 21 update – Fuzz Finance links, on their homepage, to https://twitter.com/fuzzfinance as their Twitter account. @FuzzFinance says they are not associated with this project.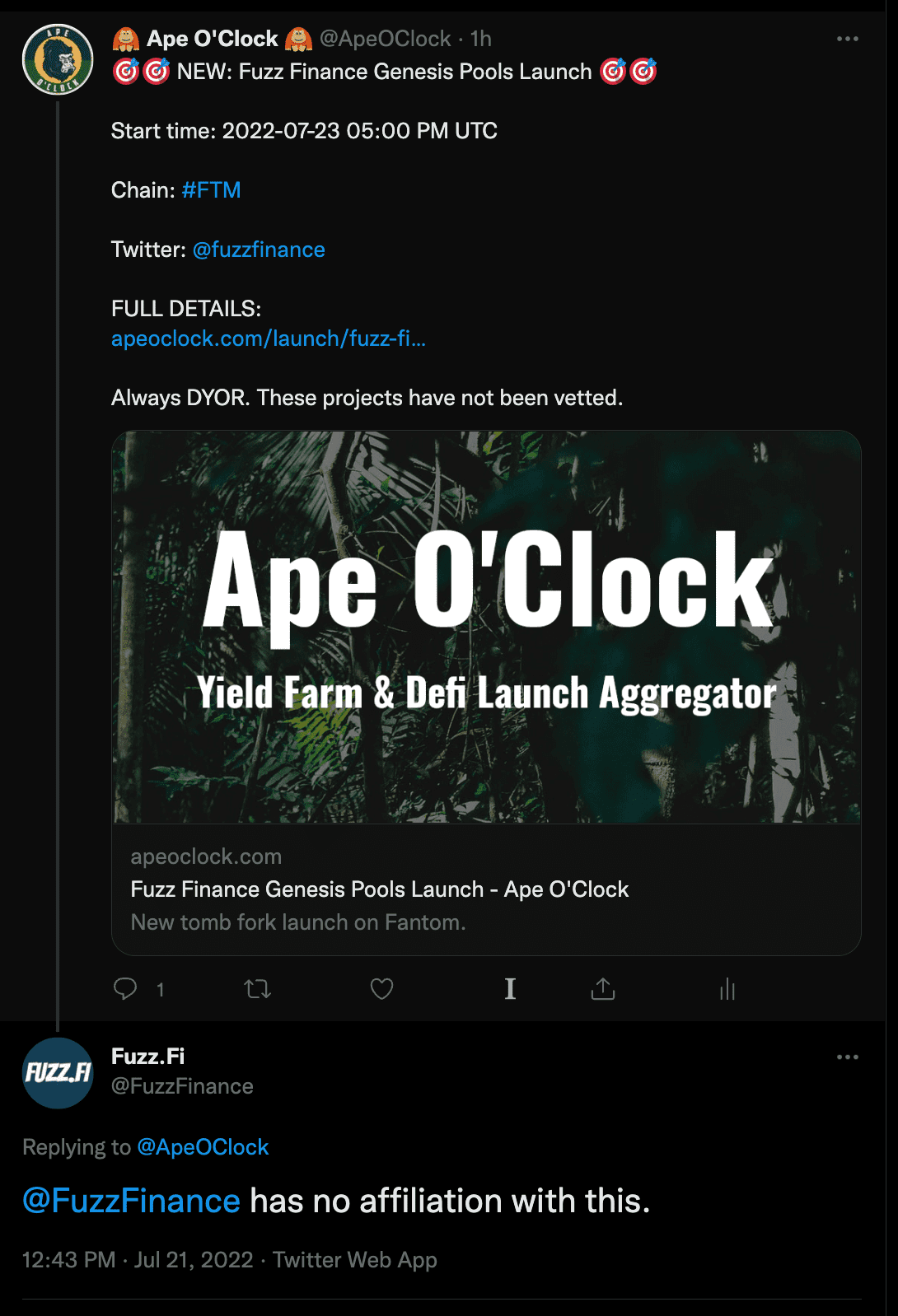 New Tomb fork on Fantom.
❌ No docs published yet, at time of review.
DETAILS
Genesis Pools

Duration: 24 hours
20,000 $FUZZ rewards distributed across the following pools:

6,000 — $FUZZ / USDC LP pool
4,000 — $FUZZ / fUSDT LP pool
4,000 — $USDC pool
3,000 — $fUSDT pool
2,000 — $WFTM pool
1,000 — $FBOND pool

2% deposit on non-native pools, 0% on native pool
No withdrawal fee
7.5% sell tax on $FUZZ, applied when token price is under peg
Operator can drain the pools 90 days after genesis ends
Tokens

$FUZZ is the algo-stable, pegged 1:1 to USDC

7.5% sell tax applied when token price is under peg

Initial supply: 20,010; allocated as follows:

20,000 — Genesis pool
10 — Pre-minted for initial liquidity

$ROCKET is the shares token

Total supply: 70,001; allocated as follows:

45,000 — Farming rewards (vested linearly over 365 days)
7,000 — Dev fund (vested linearly over 365 days; approx. 19 $ROCKET/day)
10,000 — DAO fund (vested linearly over 365 days; approx. 27.4 $ROCKET/day)
8,000 — Insurance fund
1 — Pre-minted for initial liquidity

$FBOND is the bond token
Related Posts