Date
Feb 07 2023
Expired!
Your Time
Timezone:

America/New_York

Date:

Feb 07 2023

Time:

3:00 pm
Elements Finance Liquidity Launch
February 6 update – the contract had an error and users were unable to sell their tokens. The team says they have refunded users, and a stealth relaunch is planned for February 7 between 8pm – 10pm UTC.
Fair token launch for a node-as-a-service protocol on Arbitrum.
Stealth launch between 4pm – 7pm UTC.
No contract available at time of review.
DETAILS
Launch Details

Token will be listed on Sushiswap
Token pair: ELMT/ETH
Listing price: $0.05
Fair launch; no prior token sale
Maximum buy per wallet: 2% of total supply
Initial total market cap: $20,000
Initial liquidity (estimate): $6,000

to be locked on DXsale for 30 days

Taxes: 8% buy | 8% sell (decreases by 1% per day to 3% tax, 5 days after the launch)
Tokenomics

Token symbol: ELMT
Total supply: 400,000

75% — Rewards
15% — Liquidity (30 days lock)
8% — Team (6 months linear vesting)
2% — Partnerships

8% buy and sell tax

❌ No information on the tax distribution

No wallet transfer tax
Mechanics & Utilities

Purchase nodes with $ELMT and earn daily rewards in $ELMT
There will be 4 node tiers at launch;

Earth: cost 30 $ELMT, generates 0.6 $ELMT daily
Wind: cost 90 $ELMT, generates 2.15 $ELMT daily
Water: cost 250 $ELMT, generates 6.75 $ELMT daily
Fire: cost 700 $ELMT, generates 21.5 $ELMT daily

Variable rewards claim tax;

Earth: 10% tax
Wind: 12% tax
Water: 15% tax
Fire: 17% tax

Claim tax reduces by 2% per day if you do not claim rewards
Nodes will have a wear system that will lower the daily yield of a node for every claim;

15% wear (for earth, water, wind nodes)
20% wear (for fire node)

Purchase a Repair node with $ELMNT to repair your node by 20%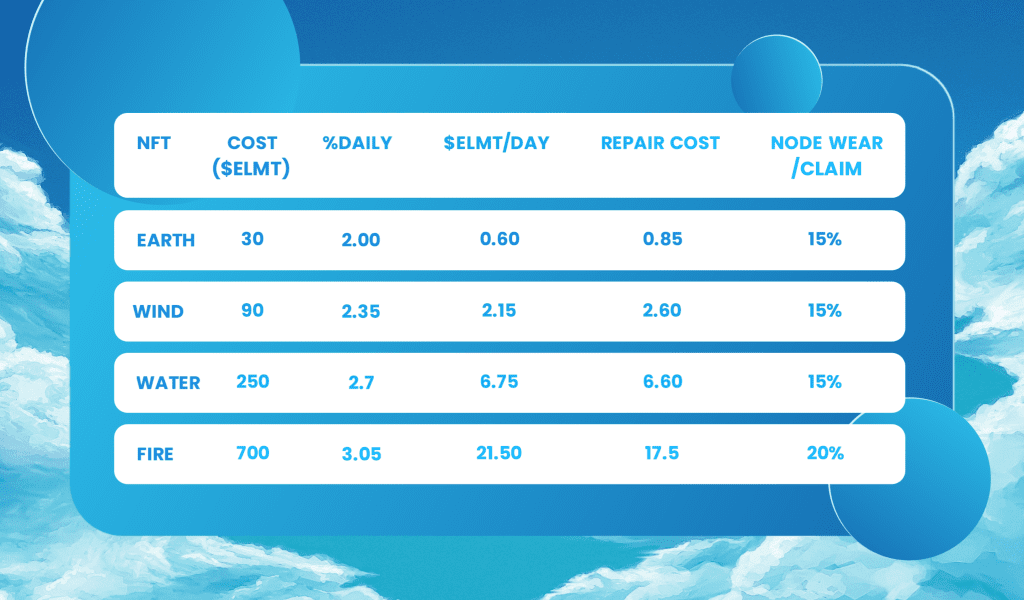 Links & Resources
Related Launches