Date
Sep 07 2022
Expired!
Your Time
Timezone:

America/New_York

Date:

Sep 07 2022

Time:

7:30 am
Chirpley Liquidity Launch
Chirpley is an automated, peer-to-peer influencer marketplace specifically focused on matching Nano and Micro-influencers with brands, and automating influencer marketing campaigns.
The exact launch time has not been announced, but the launch is scheduled for after the ApeSwap IDO. So, the time has been set just before the presale ends. Confirm the exact launch time on their socials.
DETAILS
Launch Details

Token will be listed on ApeSwap and ByBit

Listing price: $0.021
Token sale price (see Tokenomics below for vesting schedule)

Seed price: $0.01
Pre-seed price: $0.012
Private price: $0.014
Key Opinion Leaders: $0.017
Public/IDO: $0.021

Initial market cap: $357,800

Vesting: 15% of IDO tokens unlocked at token launch, then 6 months linear vesting
Taxes: 0%

IDOs held on EnjinStarter, BinStarter, Poolz, DoDo Gagarin, UpLift, ApeSwap, Divinier Protocol, DAOLaunch, TrustFi, MetaLaunch, Lithium, and many more
Staking will be available at launch
Features

End-to-end automated influencer campaign platform using artificial intelligence, machine learning and blockchain technology
Free to access

Already has a working and live platform; 12,000 users, 7K influencers, 265 brands
10% handling fee charged on both brand budget and influencer payouts (20% of fees used for buybacks and burn; 80% sent back to ecosystem/development)
50% discount on the handling fee to brands, when payments made with native token; $CHRP

Roadmap includes integration of social platforms (Tiktok, Instagram, Discord etc.), NFT release, integration of freelance marketplace, Stock NFT integration
Tokenomics

$CHRP is the deflationary utility token

Token utility: platform transactions, staking, governance
Total supply: 1,000,000,000

8% — Pre-seed (12 months cliff, then 18 months linear vesting)
2.5% — Seed (8 months cliff, then 12 months linear vesting)
2.7% — Private (2 months cliff, then 18 months linear vesting)
10% — Public/IDO (15% at TGE, then 6 months linear vesting)
1.8% — Key Opinion Leaders (3 months cliff, then 12 months equal vesting)
5.5% — Advisors & Partners (12 months cliff, then 3 years monthly vesting)
1% — Early Adopters Airdrop (20% at TGE, then 4 months monthly vesting)
10% — Ecosystem/Dev (3 months cliff, then 3 years monthly vesting)
8.5% — Treasury (6 months cliff, then 3 years monthly vesting)
10% — Team (12 months cliff, then 3 years monthly vesting)
15% — Marketing (3 days cliff, then 4 years daily vesting)
15% — Community Incentives (3 days cliff, then 4 years daily vesting)
10% — Liquidity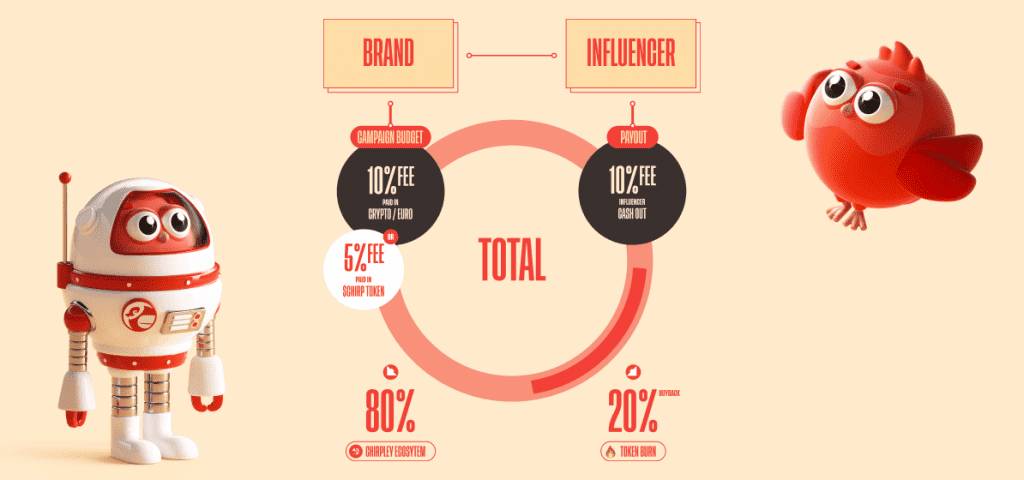 Links & Resources
Related Launches