Date
Oct 05 2022
Expired!
Time
Pacific Time
11:00 am
Your Time
Timezone:

America/New_York

Date:

Oct 05 2022

Time:

2:00 pm
Chiknstitute Chikn Beauty Pageant Mint
A collection of 32 entry tickets on Avalanche, for entry into the Chikn Beauty Pageant – a collaborative event from Chikn and Chad Doge teams.
No website, so linking to their Twitter.
DETAILS
Mint will be held on Joepegs
Mint price: 3 AVAX
Mint first opens to holders of Chikn NFTs, then public if not sold out
Only holders of Chikn NFTs are eligible to participate in the actual pageant
Only entry ticket NFT holders are eligible to submit their Chikn NFT as contestants in the pageant – 32 contestants total
Submissions start on October 8th
Entry ticket NFT holders must 'burn' their entry ticket NFT to be officially entered into the contest (holders are to send their NFTs to a wallet address, here, and dm the NFT token ID to Octo)
Contestant announcement and community voting for the top ten finalists starts on October 10th and ends on October 14th
Anyone can vote by 'burning' $egg tokens into the Chikn of your choice via the voting site (to be announced)
20% of $eggs burnt will be used for prizes for voters during the community vote, and for those in attendance during the live viewing of the Chikn Beauty Pageant
Select judges from the Avalanche community will determine the winner (Miss Chiknverse) from the top 10 finalists
Miss Chiknverse will be announced live during the debut of an animated short on or around October 21st
All mint funds will go directly to the finalists (top 10)
The top 10 finalists are awarded prizes as follows;

1st place — 40 AVAX
2nd place — 17.5 AVAX
3rd place — 12.5 AVAX
4th-10th place — 3 AVAX each

Each of the top 10 finalists will also receive a 10-second animated video of their Chikn
There will be prizes and surprises for viewers throughout the live viewing
Royalties from secondary sales will go towards the project's development costs
Secondary sale royalties: unknown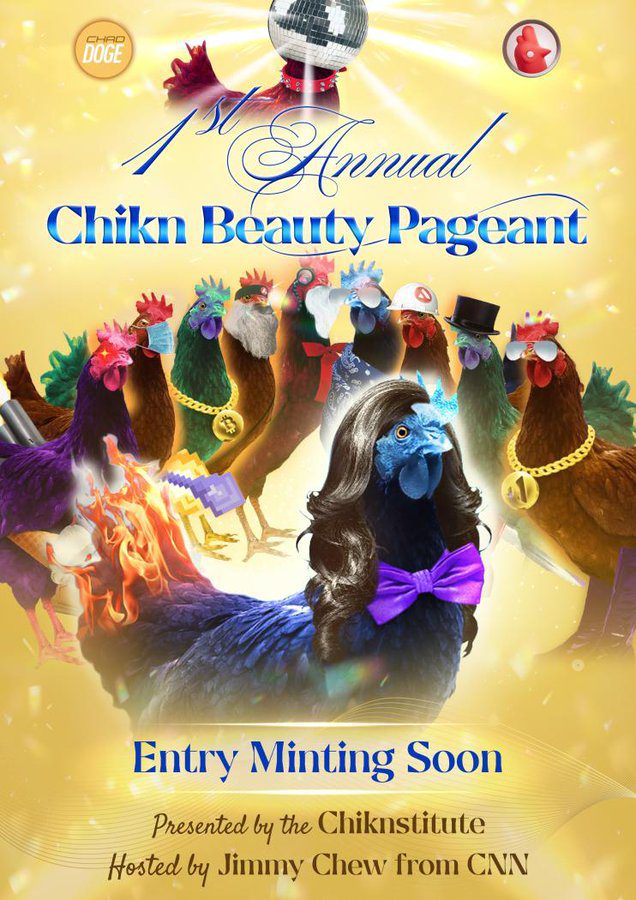 Links & Resources
Related Launches