These tools will help you be the best little yield farmer you can be:
How to Find the Best Farm APR
There are so many new farms coming out each day, it's nearly impossible to keep up with them all. APR's change from minute to minute too – so what was good yesterday might not be good today.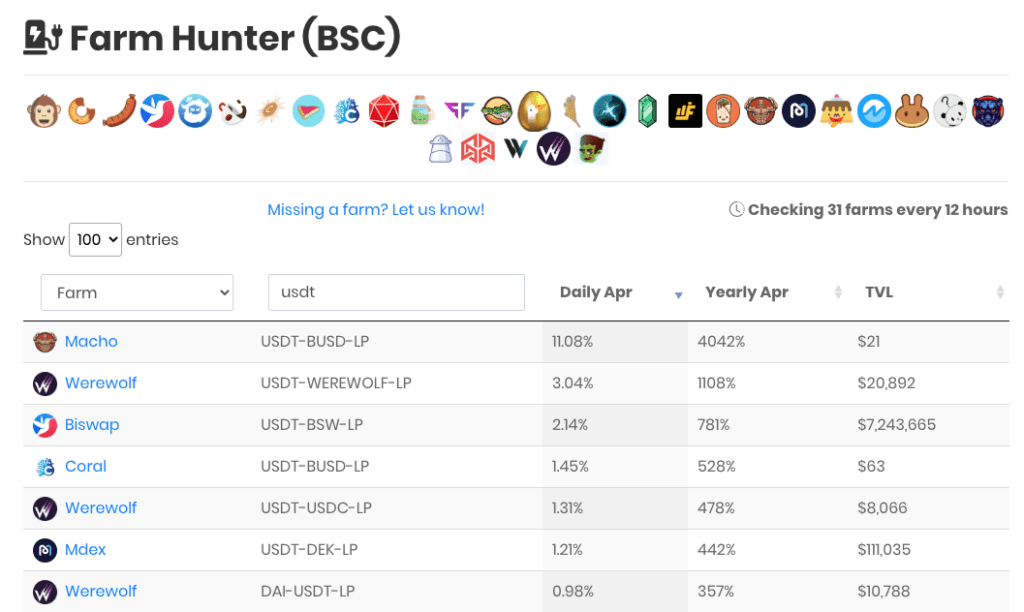 The Farm Hunter tool from CryptoNuts calculates the APR of multiple farms (and they're adding new ones every day) across Binance Smart Chain. You can search by a token, as I did in the screenshot above, and sort by Daily APR, Yearly APR, and TVL.
Similar to CryptoNuts' Farm Hunter is ApeBoard's Ape Search: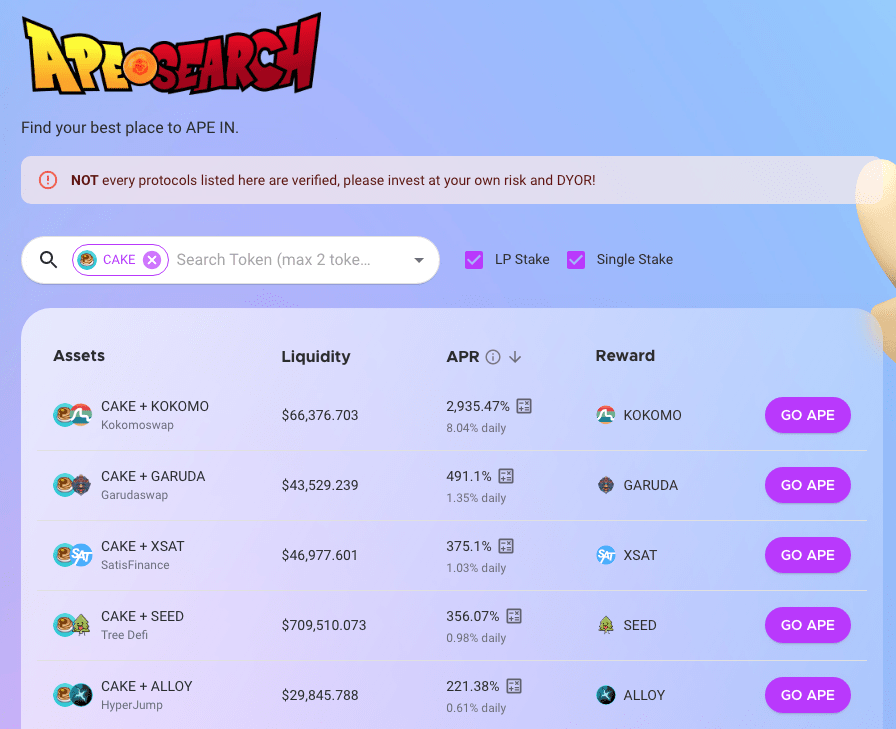 ApeBoard leans towards more established projects, so you won't find every pump and dump flash farm in their systems.
Vfat only works if the project has integrated with them, but if they have, it's got accurate and timely information – and you can interact with the contract directly from Vfat. The interface is tough to read, but it's a great place to check if you think the APR's a site is displaying aren't correct. If they're in Vfat, the data Vfat shows is more likely to be accurate than what you see on a project's website.
Don't Get Rekt
When you've interacted with a dodgy site, it's a good idea to revoke permissions so that site has no ability to interact with your wallet anymore. Look, I get it, we all have degen days where we ape into something stupid – and sometimes, we even profit from it. But always revoke permissions afterwards to stay safe(r).
Keep Track of Your Crypto
There are several projects competing to be the leader of the wallet tracking space.
YieldWatch was one of the first, and it's tool is great in that it shows you exactly what you've gained or lost while providing liquidity and breaks it down into granular detail, but the yield farms and vaults they cover are very limited, as is the number of tokens they can properly value in your wallet.

My current favorite for covering the most farms and tokens is ApeBoard. They cover Etherium, BSC, Terra, Polygon and Solana, and are diligent about adding new yield farms, vaults and tokens to their system. You can even add multiple wallets to your profile to get a sum total of all your assets across chains and wallets.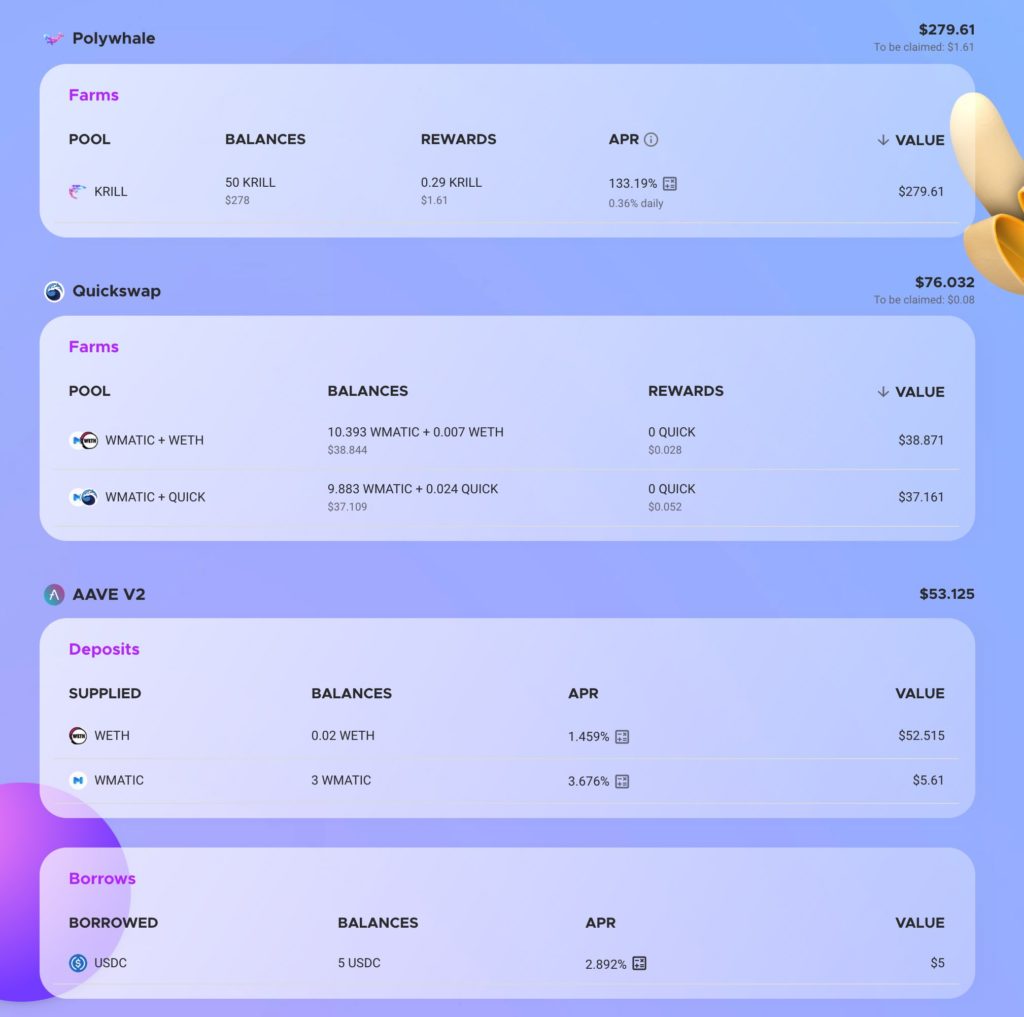 You can see how much you have to be claimed at each project, and the value of your LP's and tokens in your wallet.
Like I said though, this wallet tracking space is crowded, so I'll link you up with a few others that look promising:
And, of course, Poocoin's "Wallet" feature. It's simply the best for showing exactly how much each token in your wallet is worth. No one does it better – but it doesn't show LP's.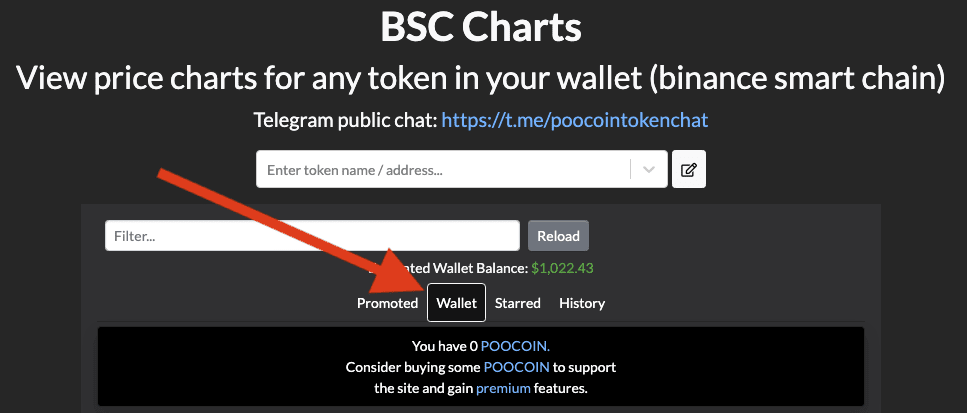 ---
Got a great tool not covered here? Drop a DM to Ape O'Clock's Twitter or Telegram and we'll check it out.